Introducing Our SUMMER 2022 Intern Cohort!!!
Our interns successfully completed their initial two-week training on June 18th, building a wonderful community of peers and building relationships with our staff. They engaged in our interactive professionalism and communications curriculum that covers a broad range of topics including first impressions, verbal and non-verbal communication, self-advocacy, disability disclosure, and taking the perspective of others. We also engaged in mock interviews, elevator pitches and heard from outside presenters. We continue to integrate the arts as well as mindfulness. Our interns finished their last day of training with presentations on what they learned during training and what they are looking forward to in their internships.
Our interns are ending the month with two weeks of successful internships!! They continue to push themselves and grow as professionals and we are receiving such positive feedback from both our employers and our interns. We cannot wait to see all of the incredible work they will accomplish over the summer.
Keep an eye out next month when we will introduce our Summer class in more detail!!
Meet the New Members of Our Team!
Andrea serves as Program Associate working with interns as a mentor and providing general program support. Andrea is passionate about ensuring that everybody is able to reach their potential and is deeply committed to BroadFutures' mission. She previously worked as an intern at the U.S. Mission to the United Nations and as a Student Assistant at the Latin American Ephemera Collection in the Princeton University Library. She recently graduated with honors from Princeton University with a B.A. in Anthropology. Andrea is from Puerto Rico and currently resides in Washington, D.C. When asked about why she is excited to work at BroadFutures, Andy shared that she is "excited to learn more about nonprofit work and to help the wonderful young people that we serve expand their potential."
Austin serves as a Program Associate working with interns as a mentor and providing general program support. With two family members who have learning disabilities, he believes in the importance of an organization like BroadFutures. Before joining BroadFutures, Austin worked as a Research Assistant at the Liechtenstein Institute on Self Determination. His work focused on global migration governance and the use of individuals as pawns for states. He graduated from Princeton University in 2021 with a degree in Public & International Affairs. His previous experience as a Residential Advisor during undergrad has prepared him for peer-to-peer mentoring and taught him how to cultivate space for people of a variety of backgrounds. Austin is originally from Michigan, but currently lives in Washington D.C. When asked about why he is excited to work at BroadFutures, Austin shared "I'm excited to be working for an organization whose mission means something and in particular to be working with interns to gain the skills they need to thrive in the workplace."
Matthew is a summer intern for BroadFutures supporting program and outreach efforts. As a student with a learning disability as well as a supportive family member of people with disabilities, the BroadFutures mission is very personal and important to him. He is currently entering his senior year at Princeton University pursuing a bachelor's degree in Philosophy. He also has a rigorous writing course load, including a screenwriting course with writer and disability advocate, Maysoon Zayid. Matthew has an 8 year professional acting career and writes for a late-night comedy show, All-Nighter, on Princeton's campus. Matthew lives in Princeton with his family and hopes to pursue a career in screenwriting and acting.
Molly is a summer intern for BroadFutures supporting our social media and graphic design efforts. She is a graphic design major at Southern Illinois University – Edwardsville, and is passionate about using her graphic design skills to make the world a place with more acceptance and kindness. Molly is our first BroadFutures Alumni intern to be hired!!! Before joining the BroadFutures team, she participated in our Winter 2022 Program as a graphic design intern with the Association of People Supporting Employment First (APSE). Molly is thrilled to be working directly with the BroadFutures team after completing the BroadFutures internship program last winter. She shared that "It is deeply gratifying to do work that furthers [our] amazing mission."
This month, we are proud to feature BroadFutures alumni Sam Flood, who has participated in several BroadFutures programs. He has completed two internships programs, one with The Association of People Supporting Employment First (APSE) and another with the Small Business Administration (SBA). Sam also participated in our inaugural Summer Strengths program. Since completing our programs, Sam has been focusing on his passion for writing and has produced a series of eight Fated Journey Books. Though he has not found a publisher yet, we are excited and eagerly looking forward to all of his future success as an author. Along with his fantasy series, Sam has begun to write about his personal journey with his disability. He shared, "My story has lots of twists and turns but ultimately despite the doubters (one doctor said I'd never graduate High School let alone college and might need to be institutionalized) and uncertainty I graduated from college and joined your program at BroadFutures."
In addition to his writing, Sam also works at a wine and cheese shop engaging with customers on a daily basis and employing the communication skills he developed during his time with BroadFutures. When reflecting on his experience with us, Sam noted, "Not only has BroadFutures taught me how to function in a work environment, but how to function within a city as well. BroadFutures helped me a lot in being a better employee at work and living on my own." We are very proud of Sam and look forward to keeping up with his personal and professional journey.
Employer Partner Spotlight – Synergy Enterprises, Inc.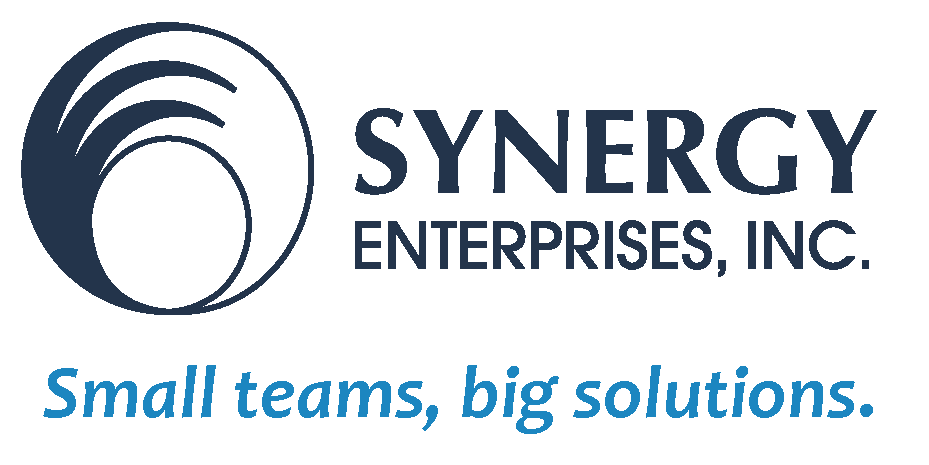 This month, we want to shine the spotlight on one of our newest employer partners, Synergy Enterprises, Inc.! Synergy Enterprises, Inc. (Synergy) is a woman-owned small business. They are a team of diverse and dedicated individuals who bring subject matter expertise, customized technology tools, and award-winning communications services to projects that connect and strengthen people, programs, communities, and countries. Since its creation in 2003, Synergy focuses on issues related to public education, public health, and other critical social programs that enrich the opportunities of individuals, communities, and populations that are under-served or at-risk. Our intern with SEI is currently working on providing technical support for the Y4Y project, which focuses on providing professional learning and technical assistance for Community Learning Centers. You can learn more about the project here.
When asked to reflect on their partnership with BroadFutures thus far, Synergy shared, "BroadFutures made integrating Louis with our team so easy! The weekly check-in calls help us focus on what we can be doing to help Louis when giving new assignments, and provide us with valuable insight as we work with him."
We look forward to a continued partnership with them. Visit their website here.
2023 Programs Information Session